Discover the best places to eat and drink while working the season in Niseko. From cosy izakaya to lively bars, this guide has everything you need to know.
Introduction to Hirafu and Niseko's Thriving Food Scene
Hirafu and Niseko are two of the most popular destinations in Northern Japan, known for their breathtaking natural beauty, world-class skiing and incredible dining options.
From traditional Japanese cuisine to international flavours, Hirafu and Niseko offer a diverse range of dining options that cater to all tastes and preferences. Whether you're looking for a cozy café to warm up with a hot drink or a fine dining experience to indulge in, you'll find it all here.
One of the highlights of the food scene in Hirafu and Niseko is the abundance of fresh, locally sourced ingredients. The area is known for its rich agricultural heritage, and many restaurants take advantage of this through incorporating locally grown produce and meats into their dishes.
In addition to the delicious food, the dining experience in Hirafu and Niseko is also something to be savoured. Many restaurants offer stunning views of the surrounding mountains and forests, creating a truly unforgettable atmosphere. During your season with us, there are plenty of dining options to suit all budgets. Find an overview of our faves below.
Best coffee shops for a morning pick-me-up
Whether you're a coffee connoisseur or simply in need of a morning pick-me-up, these top coffee shops in Hirafu are sure to satisfy your cravings.
Green Farm Cafe: Some of the best coffee available in town, roasted on the spot with carefully selected beans.

Mountain Kiosk Coffee: Local coffee stand located steps away from the Hirafu welcome center and .BASE.

Guzu Guzu: As the name "guzu-guzu" suggests this is a great place to while away the hours sipping on a coffee and sampling freshly baked bread.

Rhythm & Beans: Enjoy a specially crafted Allpress coffee and choose from a selection of locally-baked sweet and savoury treats

Skye Niseko Cafe Deli: Enjoy your coffee time to fuel up or cool down at the Skye Niseko Cafe Deli.

Graubunden: Delicious coffee and sandwich options, the perfect place to fuel up before a day on the slopes.

Sprout Coffee: Located in front of Kutchan Station, It's the only coffee shop in the main town where you can enjoy high quality specialty coffee that has been carefully roasted onsite.
Local bars for après-ski drinks and nightlife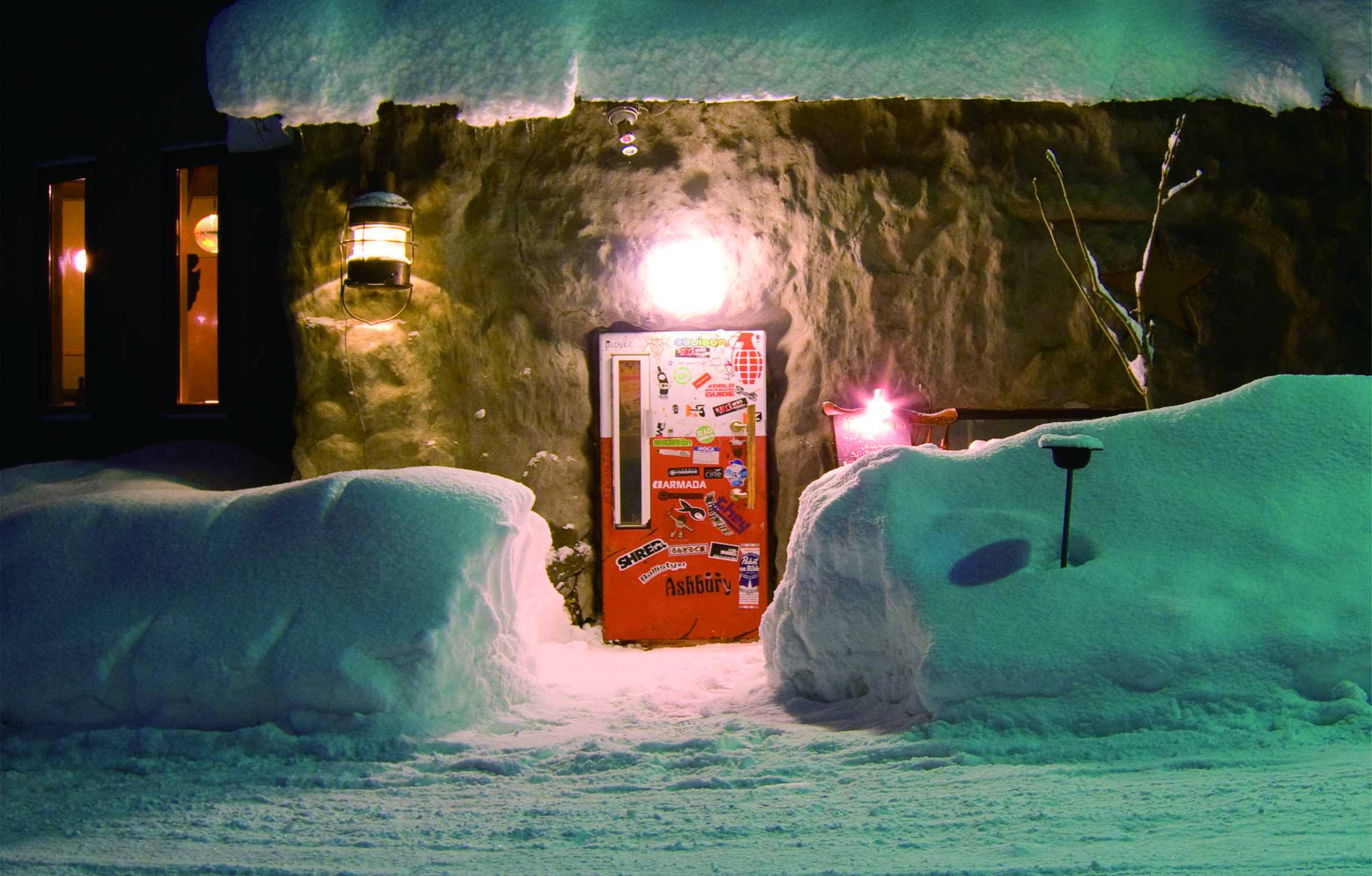 Whether you're looking for a cozy spot to enjoy a hot toddy or a lively venue to dance the night away, Hirafu has something for everyone.
Bar Gyu+: A nostalgic old-fashioned bar with a fine collection of rare whiskies and hot and cold cocktails. Can't find the entrance? Look for the red fridge door!

Toshiros Bar: Award-winning cocktail and whisky bar. Enjoy Après-ski time with good drinks from all over the world.

Mina Mina Music Bar: Cosy music bar located in upper hirafu, always spinning the latest vinyl records.

Musu: A french bistro which transforms into an Après-ski Bar in the evening, serving Tapas, creative cocktails and wine.

An Dining Après Service: From 3:30 PM, Enjoy a range of handpicked range of drinks in a relaxed setting steps away from the Hirafu Gondola. Be sure to try a Sapporo Classic beer which is only available in Hokkaido!

Half Note: Fully stocked bar featuring live music and great events most evenings.

Wild Bills: Slide in after a day on the hill for a meal, drink or dance! Enjoy the Mexican food and feel the Niseko vibes.

Freddies: An Amercian style clubhouse, for Après, smokehouse dining, cocktails, craft beers and more.
Top restaurants for local Japanese cuisine
If you're a fan of Japanese cuisine and sushi, then you're in luck! Not only do these restaurants offer delicious food, but they also provide a enjoyable and traditional Japanese dining experience, centered around a range of small plates that are designed to be shared.
Kumo Restaurant: Located on L1 of Skye Niseko, Kumo is Niseko's place to eat, drink and enjoy in a cosy izakaya-style setting.

An Dining: Treat yourself to Niseko-Inspired cuisine, this fine-dining restaurant is devoted tousing fresh seasonal Hokkaido ingredients of the four seasons

Ebitsutei: Enjoy a variety of different dishes in a cosy setting in Lower Hirafu. Make sure to try their original oden.

Tsubara Tsubara Soup Curry: Tsubara Tsubara's spicy, fullbodied soup curry has many fans! Choose your favourite meat and enjoy chunky vegetables in this traditional Hokkaido dish.

A-Bu-Cha 2: Enjoy assorted hotpots and Hokkaido specialities alongside a wide selection of beverages. Plenty of tatami seating available. Be sure to book this one in advance!

Rin: Take in the atmosphere of an authentic Japanese izakaya at Rin. Chargrilled chicken, squid and meatballs, vegetable tempura and deep-fried oysters set the scene for a memorable dinner.
Western-style dining options for seasonal comfort food cravings
We've all been there, when you just crave a burger/ pizza or pasta to get you through a cold snowy evening. Never fear, there are plenty of restaurants serving comfort food around Hirafu and Kutchan.
Wolf Burgers: A food truck serving a range of meat, and vegetarian based burgers.

Jojos Cafe and Bar: Serving top quality and homemade Hokkaido beef burgers, pizza and pasta.

Temporada: Serving international style cuisines made with the best Hokkaido ingredients, located in the heart of Niseko's Hirafu resort area.

Niseko Pizza: Primarily focused on takeaway for Kutchan residents, Niseko Pizza offers an incredible menu of pizzas, pasta, grill and burgers.
Budget-friendly options for those on a tight budget
For those months where it feels you are waiting for a lifetime for your next pay check to come around, Hirafu offers a range of affordable and delicious meals that won't break the bank.
Winter Food Trucks: In Hirafu, you'll find a variety of food trucks offering everything from curry to gyoza to burgers - all of which are sure to warm you up and refuel you after a day on the slopes.
Bar Moon: Featuring some of the cheapest and most tasty Ramen in town, and also serving meals until late, this spot is frequented by many seasonal workers.
Lava Lounge: Lava Lounge specialises in pizza and pizza delivery, the portions are generous so you could even get away with sharing to save some extra dosh.
Afuri: This popular chain restaurant from Tokyo has a special pop up in Setsu serving rice bowls and ramen.
- - -
Overall, Hirafu's food scene is a must-try for anyone who appreciates good food and drinks. There are plenty of places to try in both Hirafu and Kutchan, and this list barely scratches the surface of options available.
For a full list of the best food and drinks in Hirafu and Kutchan, you can view Experience Niseko's full Eats guide here. Happy eating & drinking!